IMPORTANT ANNOUNCEMENT
As of March 23, 2020, Students are receiving instructional support from the staff with learning packets with lessons from their books and other assignments. They are also receiving instruction through online platforms. Parents are encouraged to contact their student's teacher(s) with any questions about lessons and learning expectations. Parents may also contact Mrs. Cross at 254-754-8169 for assistance with technology devices and support as well as other needs.
Please visit our Letters page for the latest information.
WCS technology survey for parents:
https://www.surveymonkey.com/r/GGTBDVP
---
We understand that many of our students rely on WCS for breakfast and lunch. Please see the flyer below for curbside meals: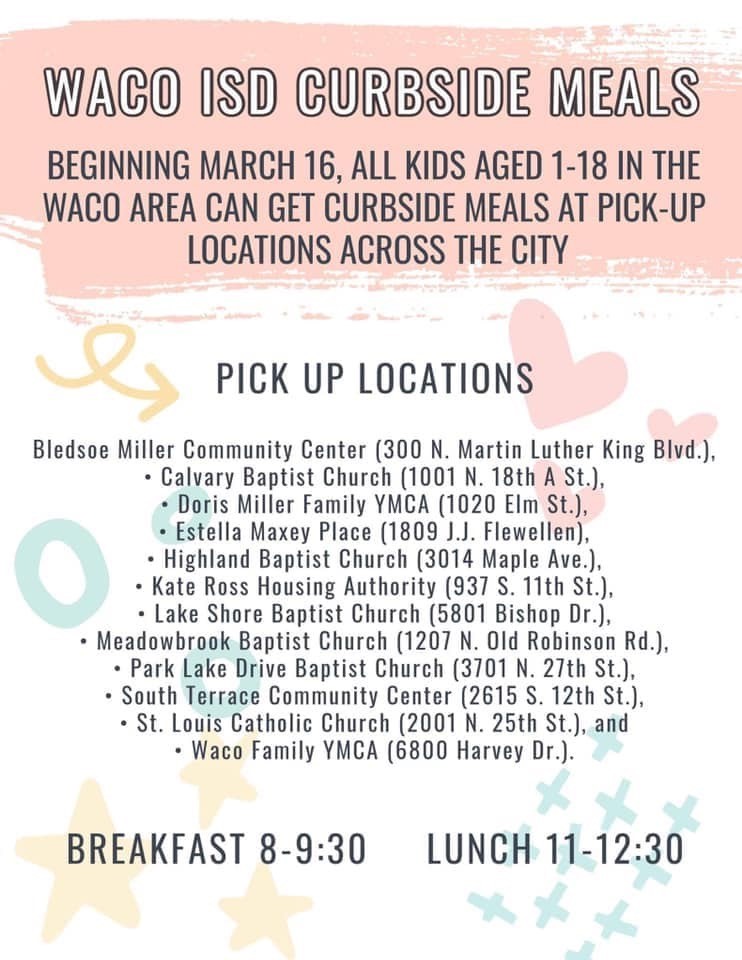 The Waco Charter School is based on the philosophy that all students can learn and become master students and that education lasts a lifetime. The goal of the Charter School is to provide a quality education for every student, to the extent that each student has the skills, knowledge, and values needed to become productive and contributing citizens. The comprehensive school plan includes all areas of academic curriculum, including basic life skills.
The EOAC Waco Charter School is operated in compliance with the Texas Education Agency guidelines for operations of a charter school.
According to TEA Standards, Waco Charter School is a Highly Qualified Campus.
NOTE: ALL Persons entering our school to see or pick up a child will be required to show a VALID I.D. or entry will be denied.