Assistance is NOT guaranteed

Unfortunately, we are no longer accepting applications for utility assistance. If any additional funds become available for this program year, we will post that information on our website and all social media platforms.

If you have a completed application and all required documents pending with us, we will communicate the status to you.

Assistance is NOT guaranteed!

The Comprehensive Energy Assistance program (CEAP) is a utility assistance program. CEAP is designed to assist low income families with household energy needs, addressing household needs, providing education material, and coordination of resources.
---
Eligibility Requirements
Applicant must be a resident of Bosque, Ellis, Falls, Freestone, Hill, Limestone, McLennan, or Navarro counties.
Household must be at or below 150% of the Federal Income Poverty Guidelines
Online Applications are the quickest way to complete the application. Click here to access the online application. – THE ONLINE APPLICATION IS CURRENTLY UNAVAILABLE

Pick up an application in person at EOAC at 500 Franklin Ave, Waco, TX 76701 in the Community Services Foyer.

Download an application here:
Required Documents
(Applications will not be processed without the required documents listed below):
Citizenship or Immigration Status documentation for each member of the household, including:

U.S. Passport
U.S. Birth Certificate issued by the State Bureau of Vital Statistics.
Certificate of Naturalization or U.S. Citizenship.
U.S. American Indian or Alaska Native Tribal enrollment or membership card with photo

Proof of Identity for each member of the household 18 years of age and older

Driver's license or state-issued ID

Proof of any type of income received in the past 30 days for all household members 18 years of age and older

Employment wages (all check stubs for weekly, bi-weekly or monthly wages for the last 30 days.
Self-Employment income and expense receipts for last 30 days.
Social Security / Supplemental Security Income (SSI) award letter for current year (bank statements will not be accepted)
Unemployment benefit or workers compensation statement of benefits.
Private Pension Documents for current year
VA Retirement / Disability for current year
Any other income received in the last 30 days

Current utility bills for electric and gas (front and back)
If household a household member age 18 or older has not received any income in the last 30 days, or does not have complete proof of income for the entire last 30 days, you must complete the Declaration of Income statement found here: Declaration of Income Statement
Unsure of what documents can be used to establish identify and citizenship/imigration status? Please see below.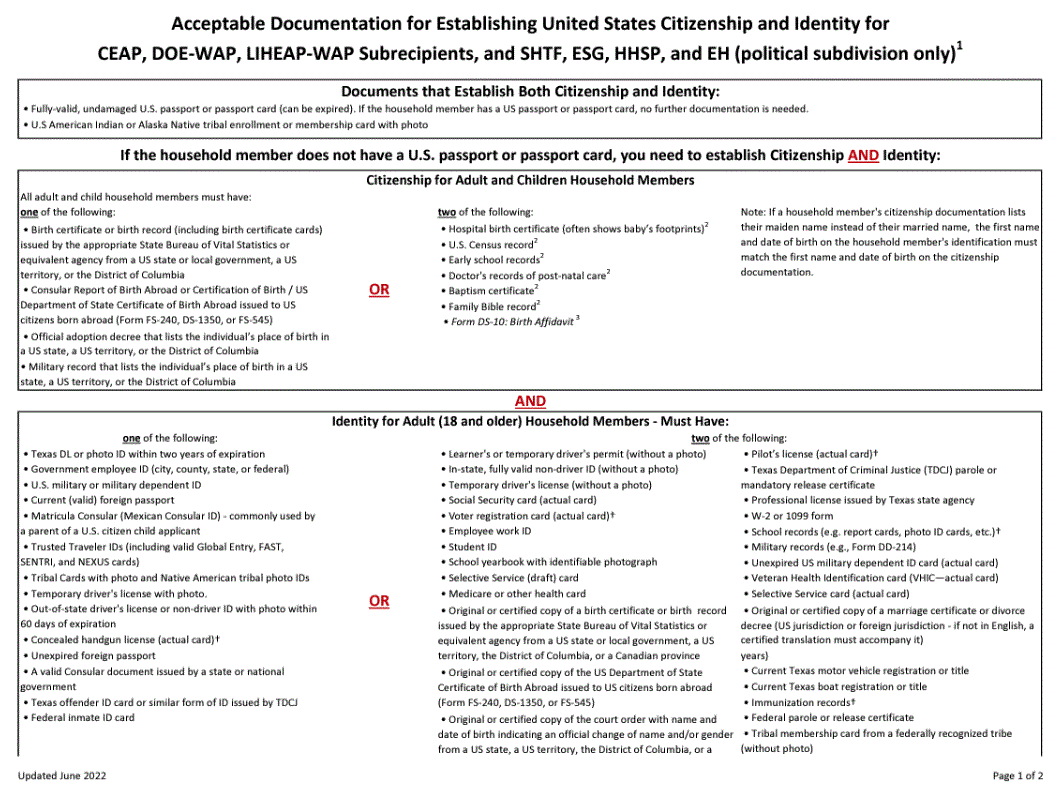 ---
If you have any questions, please call 254-756-0954.
---
ASSISTANCE IS NOT GUARANTEED! DEPENDING UPON THE NUMBER OF REQUESTS AND FUNDING, ASSISTANCE MAY BE LIMITED OR UNAVAILABLE.

Applications will be processed in the order received. Incomplete applications will not be processed. Assistance is subject to availability of funding.